Digital Signage designed for Primary Schools Cleversign Primary is an:
You never get a second chance to make a first impression. A Cleversign Primary screen in your school reception is not only a powerful, incredibly easy to use, digital notice board but also looks great. Combining modern technology with a professionally created message screens, that incorporate your school logo, colour scheme and photos, it's the perfect way to greet visitors whilst also conveying those crucial messages that make a school run smoothly.
Messages can include whatever you like, for example:
Visitor welcome information
Instructions on your school visitor, safety and security policies
Information on events, after school club and activities
Recognition of pupil achievements and birthdays
Staff notices
Lesson information
Emergency information such as fire drills or fire alarms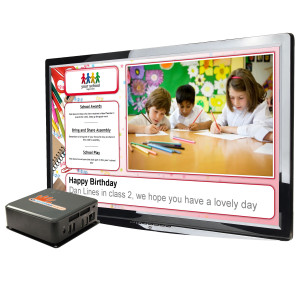 Cleversign Primary is an:
Ultra compact digital signage player which connects to a TV or a professional monitor using an industry standard HDMI connector
Windows 7 Professional operating system so that is can be easily added to your school network
Dozens of professionally designed digital signage layouts using the information zones primary schools use :
Animated text
Photos
PowerPoint
Movies
Clocks
Combinations of the above
Powerful multi-zoned digital signage software package, with simple updates via a built in intranet site
Easy to use
Updating information on the screen can be delegated to any member of staff. They update messages over the school network so don't have to leave their desks. It's faster to update a Cleversign than manually putting a poster on a notice board. Updating a message on the screen typically takes less than 30 seconds and training a new member of staff to use the system takes less than two minutes. In addition to the great selection of screen layouts, that come pre-installed on your Cleversign Primary players, there is a fixed price, low cost design service should you require something bespoke. The range of layouts that come on your player can be viewed at www.sedao.co.uk/cleverscreenprimary. Remember that on your system they will all have your own school logo, colours and photos.
Affordable
Whilst Cleversign Primary has many enterprise level features including a specially designed hardware player, 60 second signage, layout scheduling, multi-zone messaging and more, it's also designed to be a one off simple affordable purchase and has NO ongoing fees, no annual licenses, no internet 'cloud services' to pay for (you don't' even need an internet connection). Cleversign Primary is designed to work the way Primary schools work. To save power it even automatically turns off at night and on in the morning, before school starts.
School, College and University Digital Signage
Example of the starter screen layout provided with Sedao Pr!meScreen