The requirement:
In 2010 Keltbray Ltd moved into a new building in Epson, Surrey. This was to be their new headquarters which would allow them to launch themselves to the top of their industry within construction and demolition. As one of the country's leading experts in their field they needed to create the right impact within their new headquarters.
After numerous design meetings we secured a specific criteria and went away to produce a quotation on the design requirements. On submission of the design and quotation we were asked to visit the team at Keltbray and give a presentation based on our design and why we felt our ideas were best suited to the perceived client requirements.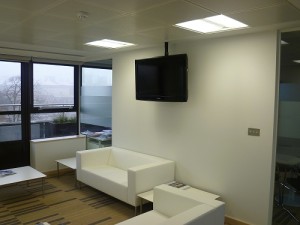 The full requirements were:
The brand new Samsung 4 screen video wall within the boardroom
A 50" LCD screen within the reception
Digital and Satellite broadcast onto a 50" LCD TV within the canteen
Onelan digital signage onto the reception screen
4 remote TVs to be wall mounted throughout the office sitting areas
Since carrying out this installation we have been working with Keltbray on a regular basis installing comms and AV throughout their site offices.